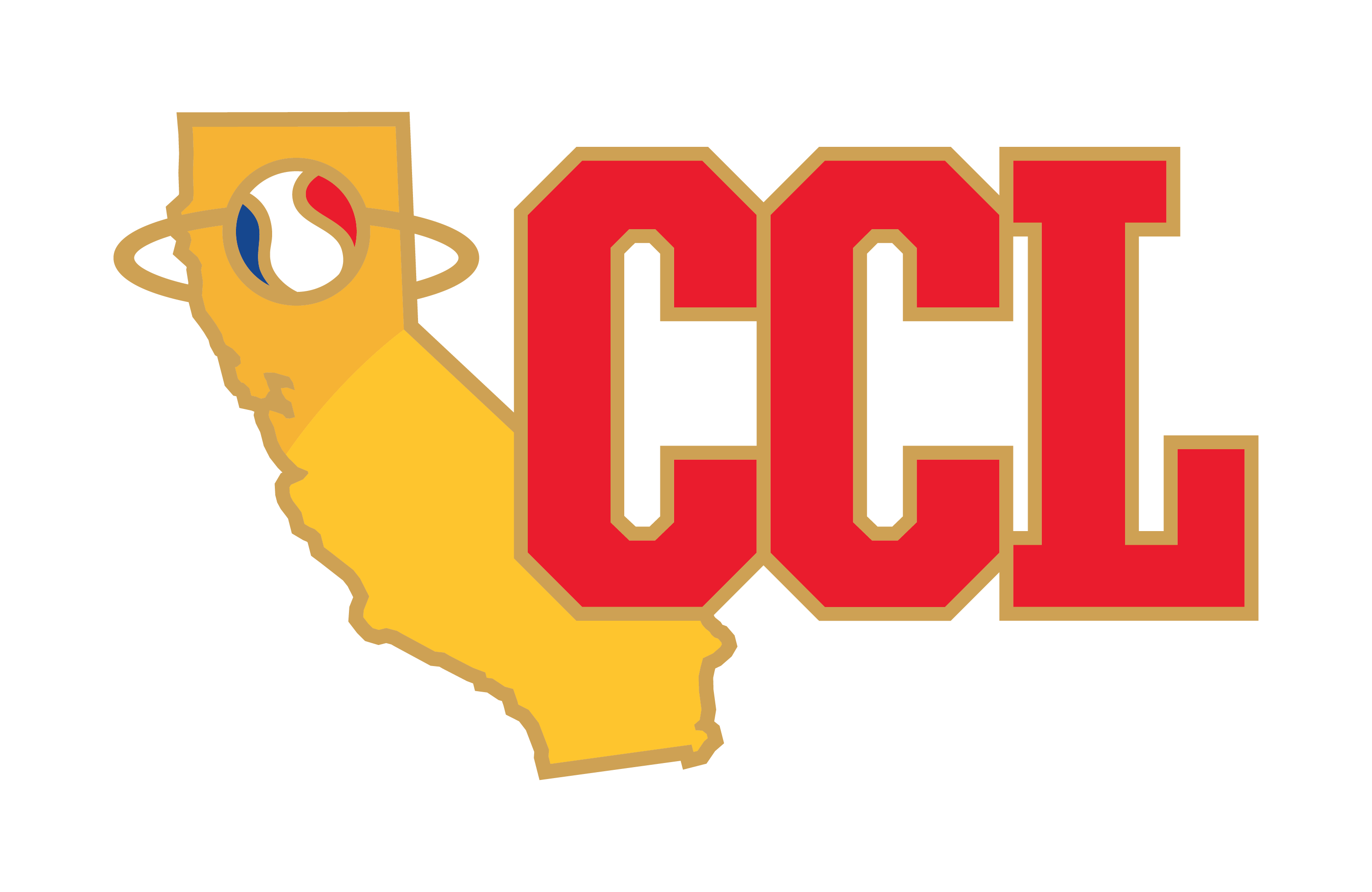 By CCL Reporter Sam Nute
(WALNUT CREEK, CA) – The Walnut Creek Crawdads follow a similar structure to most sports organizations. Longtime owner, general manager, and head coach Brant Cummings runs the day-to-day operations, recruiting players to Northern California, overseeing administration and finances, and coaching his squad through games and training sessions.
Cummings is a baseball guy through and through, dedicating his entire life to the game—and it shows. Cumming was named 2022 General Manager of the Year by his California Collegiate League peers.
Delegating and recognizing up-and-coming talent are important tasks in running any organization.
This year, Walnut Creek's GM role is occupied by someone fans might not expect. Twenty-year-old Austin Ota is a journalism major at the University of Oregon and spent the 2022 season as the Crawdads' play-by-play broadcaster and marketing manager.
"Walnut Creek is about an hour away…," Ota, a San Jose native, said. "I reached out, and I pretty much got the [broadcasting] job right away which was really, really cool to have that job security for a summer as a freshman…" Ota loved the work he did with the team, and he saw the love and care Cummings was putting into all the work he did for the Crawdads.
Ota wanted very much to come back for another year and asked Cummings if he needed help. Cummings offered Ota the job of hiring all the Crawdads' interns for the summer, and Ota attacked the opportunity.
The job has turned into much more than that.
"I started the intern hiring process in about October and then had them pretty much finalized by January," Ota said. "Then, over the last couple of months, it's kind of just grown to me and Brant talking pretty much every day either on the phone or over text. He's asked me to…find players and set up sponsorship contracts…"
Trusting a sophomore in college to help find players, organize sponsorship deals, and oversee marketing is a bold move that other owners might not take, but Cummings saw something in Ota that he doesn't see in a lot of people very often. Cummings referenced Hall of Fame manager Tony La Russa.
"Tony La Russa said this many years ago when he was in St. Louis as the skipper," Cummins said. "He said, 'You want to have people that care. When you lose, they're not giddy about it. When you win, they're happy, and they're pleased with the success.
"If I were to describe how Austin feels about our organization, he loves it. He loves the team, and he wants to see us win on the field as well as off the field. And there aren't a lot of people in this business that feel that way about any of these teams. There are some people that will take positions…It's just a resume builder. It's rare to find someone who cares about the team as much as he did…It's rare to find someone who cares about the team as much as he did."
The care and love that Cummings showed for the Crawdads leaked over to Ota, who, with his new promotion, led to an increase in the amount of time Cummings and Ota communicated. The pair have developed a strong working relationship.
"We had a call at the end of last season where we just sat and talked for like an hour about what we wanted from this, what I thought could be better…," Ota said. "Since then, he's just become like a father figure, like a mentor to me. I feel like I can call him any time of the day; he'll text me any time of the day and either check on me and how I'm doing personally or ask me things about the team. He celebrates all the little things like they're the biggest thing in the world, which is really important to me."
This summer could be a breakout year for Walnut Creek. Crawdads' fans can expect to see some familiar faces returning for the 2023 season. Texas Tech infielder and 2022 CCL Showcase Game participant, Ryan Brome, is returning to build off his highly successful 2022 campaign. In 39 games with the Crawdads last season, Brome had a .363 average walking 28 times.
Joining Brome on the infield is St. Mary's junior and 2022 CCL All-League selection, Ryan Ellis. Like Brome, Ellis had an outstanding 2022 summer with the Crawdads, hitting .356 with four home runs and 15 doubles.
Perhaps the Crawdads' most exciting addition for the 2023 season is University of Nebraska reliever, Corbin Hawkins. In 38.1 innings with the Big Red so far this year, Hawkins has struck out 30 to the tune of a 2.35 ERA and has not allowed a single home run.
"We're getting these guys that I think are proven hitters [too]," Ota said. "I think we're going to be really, really good this year. I'm very excited for what the Crawdads are going to do."
With a mix of returning talent and new blood, the Crawdads are looking to improve on a second-place finish in the North Division and a 2022 CCL State Championship appearance.
Cummings, Ota, and the rest of the Crawdads' organization could see push for even more in 2023.
By CCL Reporter Sean Brennan
(THOUSAND OAKS, CA) – The 2022 California Collegiate League summer was one to remember for the Conejo Oaks. During his twelfth year at the helm, manager Dave Soliz led his team to a 20-14 conference mark – its best since a 2018 season that concluded with Conejo claiming its first league title – and clinched the No. 1 overall seed in the 2022 CCL State Championship tournament.
And this success wasn't limited to the regular season. The Oaks showed they were deserving of the top seed, making it all the way to the final game before falling just short of their second championship in franchise history.
As is the case with any dominant team, there are many factors that went into Conejo's winning ways in 2022. But for General Manager Rebecca Willson, a key force that fueled the Oaks' success is the sense of family among the players; a collective bond that only strengthened as the season progressed.
"I think we had … overall a great group of guys," Wilson said. "You never know what you're going to get when you have players come in that have never played with each other before… There can always be mishaps or differences of opinions, but for the most part, I think the players meshed really well. That showed on the field."
Perhaps the most apparent benefit of the camaraderie in the Conejo dugout – aside from earning the third-most conference victories in the entire league – is everyone's attitude on the diamond. While summer baseball is centered around played development, the Oaks also fostered a fun, easy going atmosphere that helped keep morale high throughout the summer sprint that is the CCL season.
Conejo's sustained prowess last year can also be attributed to coaching, which is not only a major time commitment during the summer, but a responsibility requiring year-round involvement. In short, being the Oaks head skipper goes far beyond instructing his team for a two-plus month campaign.
Quote about recruiting – follow-up with Rebecca.
In addition to recruiting, Soliz is tasked with creating relationships with colleges. The proof is in the progress – players returning to their schools improved is the best way to build a strong reputation. And this year's incoming squad is highly reflective of the pipelines Conejo has established over the years.
Given the positive overall experience last summer, it should come as no surprise that ten players are coming back to Thousand Oaks for another go-around. One of these returners is infielder Zach Daudet (Regis), who had the CCL's fourth-highest batting average in 2022. Because Daudet improved while playing under Soliz, he isn't coming back alone, as he'll be accompanied by two additional members of Regis Baseball. This is only one example – the Oaks are welcoming multiple players from the likes of Oregon, Hawaii and Grand Canyon.
But how can schools be sure that each player they send will get better? For the Oaks, the answer is simple. While on-the-field results are important, development matters most, meaning everyone on the roster is guaranteed to get in-game reps throughout the summer.
"At the end of the day, you want to win," Willson said. "Whether it's baseball or any sport, you're going to put your best players out there. But you have to think this is summer baseball … [The players] are here to get more at-bats, they're here to get more playing time. Yes, there are some players that get more playing time than others. But coach Soliz does a fantastic job of making sure that everyone plays."
It also helps that Conejo's players have the opportunity to learn from a professional baseball icon: former Major League Baseball catcher and manager Mike Scioscia. The three-time World Series Champion founded the Oaks in 2004 along with Amateur Baseball Development Group (ABDG), a nonprofit which aims to expose young athletes in Southern California to baseball. While he isn't in the dugout during every game, Scioscia is heavily involved with his team – as he is in contact with Soliz on a daily basis and is always willing to help players during practices.
"First, he's the greatest guy, he's so present," Willson said. "He's fully committed … He shows up when he can and is there working the guys, and you can see a shift in the players when he's there … They're really soaking it in as much as they can. He's not just there to be like, 'I'm here.' He works with the guys, he's out there."
Between strong relationships with college baseball programs, a player-friendly environment and heavy emphasis on development, it's easy to understand why the Oaks have achieved great success during their time in the CCL. There's no telling where Conejo will finish in the standings this time around, but it's likely another tight bond will be formed between the players – just as it was last year.
"The players loved being around each other," Wilson said. "Whether it was their first-time meeting, they're lifelong friends now … Some of them didn't want to say goodbye … I definitely know some of them wanted to stay as long as they could."
(LOS ANGELES, CA)
CCL CELEBRATES 30 YEARS
To kick-off its 30th year, the California Collegiate League released its slate of games for 2023 summer season. All CCL teams will play 35 league games plus select non-league matchups.
The Lincoln Potters travel to Arnold Field to face the Sonoma Stompers on June 6 at 6:05 p.m. The Stompers are coming off their debut season in the CCL in 2022.
On June 8, the Solano Mudcats square-off against the back-to-back CCL State Champion Healdsburg Prune Packers at 6 p.m.
The action gets started in the Southern Division on June 9. The 2017 CCL Champion Orange County Riptide host the Arroyo Seco Saints at 7 p.m. at The Great Park in Irvine, CA.
June 10 features a slew of CCL contests. The Walnut Creek Crawdads welcome the Mudcats at 1 p.m., and at 4 pm., the 2018 CCL Champion Conejo Oaks play host to the MLB Academy Barons at Sparky Anderson Field at Cal Lutheran University. The Oaks finished second in last year's State Championship. The nationally ranked Santa Barbara Foresters face-off against the San Luis Obispo Blues at 6 p.m. at Pershing Park.
View the complete 2023 CCL schedule [+HERE] and select 'View All.'
2023 CCL POSTSEAON
Wild Card Round: Tuesday, August 1
Divisional Round: Wednesday, August 2
State Championship: Friday to Sunday, August 4-6
New for the 2023 summer season will be an updated postseason format. The CCL's 11 teams will vie for a spot in the 2023 CCL State Championship, a best two-out-of-three game series Friday to Sunday, August 4-6.
Following a coin flip at a regular offseason league meeting, the South Division representative will serve as the State Championship host this year. The North Division will host next year and rotate back and forth between Northern and Southern California in subsequent years.
To get to the State Championship, the CCL's second and third place teams from each division, North and South, will take part in the 2023 CCL Division Wild Card Round on Tuesday, August 1.
The winners of these two Wild Card games will then play the first-place teams in their respective divisions on Wednesday, August 2 for a chance at taking home the CCL's 2023 State title.
2023 CCL SHOWCASE GAME
Wednesday, July 12, 7 p.m.
MLB Youth Academy
The 2023 CCL Showcase Game will be held at Major League's Baseball Youth Academy on Wednesday July 12. Close to 60 of the CCL's best players will be in attendance showing off their skills and talents.
NEW CCL COMMISSIONER
Executive Director, Aaron Milam, announced the addition Dr. Michael J. Simpson as new commissioner earlier this month.
"I am looking forward to celebrating the 30th year of the CCL," said Simpson. "Collectively we will have an opportunity to reflect on the league's historic accomplishments and anticipate the excitement of a new season. This summer our teams, players, partners, fans and communities can expect to enjoy an entertaining time at the ballpark and an exhilarating brand of baseball."
#CCL30Years & #CCLBaseball
Follow all of the action all summer long using the hashtags #CCL30Years and #CCLBaseball.
(LOS ANGELES, CA) – California Collegiate League Executive Director, Aaron Milam, has announced the selection of Dr. Michael J. Simpson as the new commissioner. The CCL's Board of Directors enthusiastically approved Simpson's appointment at its last league meeting.
Simpson comes to the CCL with more than 40 years of high-level leadership experience in educational administration, college and professional baseball, and the military.
"I'm eager to get going," said Simpson. "I am appreciative of the opportunity the Board of Directors as given me to join the ranks of the prestigious CCL. I look forward to collaborating with the board, staff, coaches, players and fans to continue to grow and enhance the League. I am particularly enthusiastic about the prospect of impacting the development of the student-athletes as baseball players and model citizens."
During his impressive career, Simpson served as Director of Athletics at San Francisco State University for 16 years.
Before overseeing the Gators' athletic department, Simpson was the head baseball coach for three collegiate programs and a national team.
During his 12 years as headman at SFSU, Simpson amassed 326 victories from 1985-1997, most by any coach in any sport at the university. Simpson and the Gators secured three conference titles and two berths into the NCAA Division II National Championship. He was named Coach of the Year in 1986, 1989, and 1995.
In 2022, SFSU inducted Simpson into its Hall of Fame for his close to 30 years of service to the Northern California institution.
Simpson led the UC Santa Barbara Gauchos from 1978-1980 and Westmont College Warriors from 1973-1977. In 1992, the Austrian National Baseball Federation named Simpson the head coach of its national program.
Simpson is no stranger to collegiate summer baseball. In 1978, Simpson managed the Humboldt Crabs to a 40-10 record.
"Mike's on and off-the-field resume speaks for itself, and I, along with our league members, are looking forward to him joining the CCL," said Milam. "He is a leader in every way, and I am confident that our players, teams, and partners will benefit from his decades of experience."
As an associate scout, from 1983 to 1985, Simpson helped the New York Yankees identify amateur baseball players with professional potential.
Bill Pintard, current Yankees' scout and Executive Director and field manager of the CCL's Santa Barbara Foresters has known Simpson for many years.
"The CCL got even stronger today," said Pintard. "I've known Mike for a long time, and for our league to add someone of his caliber, experience, and integrity makes us all better."
In addition to Simpson's administrative and baseball work, he is a proud United States veteran. From 1969-1975, Simpson served in the 425th Civil Affairs Company for the United States Army Reserve. There, he held the roles of Chief Administrative Officer, Personnel Officer, and Finance Officer.
Simpson has served on numerous national associations and committees, including the American Baseball Coaches Association, the National Association of Collegiate Directors of Athletics, and the United States Baseball Federation. While at SF State, Simpson served a term as President of the California Collegiate Athletic Association (CCAA, NCAA Division II). He spent four years on the NCAA DII National Baseball Committee and chaired the West Regional Committee.
Simpson holds three degrees from UCSB: a doctorate in Educational Policy and Organizational Studies, a master's in Education, and a bachelor's in Geography and Physical Education.